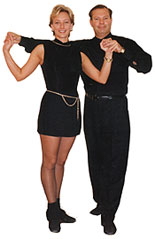 | | |
| --- | --- |
| We now offer DVD versions of ALL of our videos! For more information visit our FAQ page. | |
You have reached the source for instructional dance videotapes and DVD's.
The Dance Store, located in Chesterfield, Virginia, produces and sells dance instructional videos for partner dances such as hustle, swing, waltz, salsa, rumba, cha cha, merengue and two step - plus videos for slow dancing, planning your wedding dance and shaping & toning.

We offer videotapes and DVDs for the complete beginner, for the intermediate dancer, and for the competitor.


We specialize in offering superior value. Our videos are generally over an hour in length and most videos present more than 25 figures. In addition, we try to show "leadable" figures - figures that real people can lead and follow reliably.
If you are new to dancing and don't know which dance to try first, visit our FAQ page for our suggestion.

Use the links at left to browse our entire product line. Shop online quickly and reliably using any major credit card or click here for other ordering options.





Since part of The Dance Store's mission is to help people learn to dance in an easy, affordable way, this site offers lots of free information and tips about each dance, plus music examples.
Even if you choose not to purchase one of our exceptional videos you're sure to get a lot out of our site. And, if you wish to share anything you've learned, I'll add it to this site!